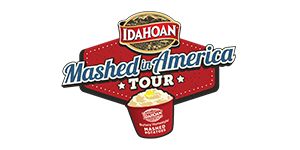 Challenge:
Talk about a hot potato. Idahoan Foods' single-serve cups are a tasty and fun way to enjoy this comfort food. They wanted a brand activation strategy to increase household penetration through trial, as well as overcome those pesky preconceptions about dehydrated mashed potatoes. (Spoiler alert: They're delicious.)
Strategy:
When's the best time to have a conversation about food? It's when consumers are in the kinds of places where they're naturally open to a conversation about food. We wanted to use those moments to showcase the key attributes of Idahoan Foods' Mashed Potatoes: consistency, flavor, ease of preparation and value. Our team came up with a spudtacular idea.
Solutions:
We took those potatoes on the road, launching the Mashed in America Tour with stops at 100+ locations and 52 weeks of programming across the U.S. Handling everything from concept to execution, we had branded trucks meet consumers where they tailgated, camped, and at lifestyle events – like NASCAR, NFL and NCAA – as well as large scale music festivals. We maximized Idahoan Food's exposure by incorporating retail events in-market and along the route of flagship events, driving sales at the point of purchase with key retail partners. At every stop, spud fans were treated to delicious samples, free products via coupons and more fun than you shake a stick (of butter) at.
6,680,000+
Vehicle Impressions
Nationally
155,654,447
NASCAR
Radio Impressions