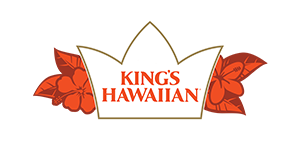 Challenge:
King's Hawaiian had always had a singular Memorial Day event strategy. But they wanted to pivot to an extended marketing approach for a broader reach. Not only that, they needed to launch within a tight time frame to support a new product launch in the King's Hawaiian family.
Strategy:
We proposed a Mobile Tour – executing at various NASCAR venues across the country – to achieve the range of geographies they desired, and tap into the potential for more product sampling and impressions. We devised a plan for onsite brand and fan engagement with high visibility for the brand activation of their new product: King's Hawaiian pretzel buns. (Wave the checkered flag, we have a winner.)
Solutions:
Entertainment 3Sixty created a King's Hawaiian-branded mobile sampling unit to hit the road and serve up King's Hawaiian pretzel sliders. Expanding their presence at these events, we also created a photo area for selfies and on-site games. To add even more to the draw, we hosted a Q&A session with King's Hawaiian NASCAR driver, Brad Keselowski. The new King's Hawaiian pretzel sliders went fast…just like Brad.
238,562
Impressions
by Miles
Driven
11,250
Premiums
Distributed
487
Photo
Moments
Captured